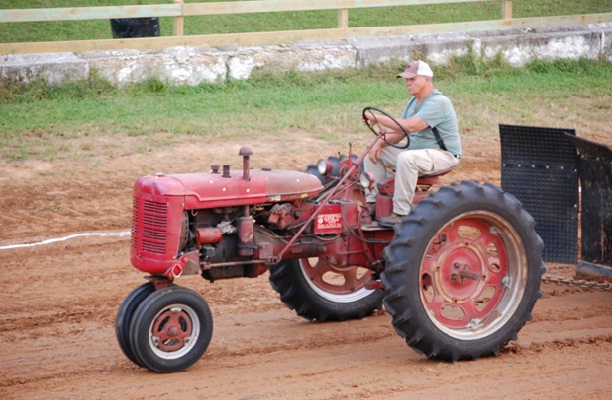 04 Mar

Why is Tractor Pull so Popular?

Also known as power pulling, tractor pulling is good family fun since 1929 when the first competition was held in Ohio. This was not a thing until the late '50s had its hay day in the '70s and '80s and now is making a comeback.

This is called "the world's heaviest motorsport" and it is a challenge both for the driver and the vehicle. The duo consisting of man and beast has to pull a heavy sled as far as possible. It takes know-how, grit, good understanding of physics and knowing your tractor in and out.
Pull on Sunday, Plow on Monday
In the beginning, the vehicles used for this sport were the same used for regular agricultural jobs, hence the motto. In fact, in the '70s there were only two classes at these competitions: stock (commercially manufactured tractors) and modified which usually included some enhancements of the engine or a non-tractor engine.
As the popularity of the sport grew, the participants became more creative and added more gadgets and even engines to the chassis which was more a dragster than a tractor. The top was reached in 1988 when a 7-engines tractor appeared on the track. Since the sky is the limit to what you can do, there is always something new to discover and try, so it never gets boring.
Tractor Pulling Classes
Because there is no way a conventional tractor and a 7-engine one or even a jet-engine could race in the same way, the tractor pulling sport grew to have a wide range of categories. The most well-known pull classes are:
FWD – Four Wheel Drive Trucks
HVY SST (Diesel) – Super Stock Diesel/Open Tractors
LIGHT SST – Light Super Stock Tractors
MINI – Mini Modified Tractors
MOD – Modified Tractors
PRO – Pro Stock Tractors
SEMI – Super Semis
SFT – Super Farm Tractors
TWD – Two Wheel Drive Trucks
UNL – Unlimited Modified Tractors
LIGHT- Light Unlimited Tractors
PS Diesel 4×4 Trucks
Limited Pro Stock
Light Pro Stock
As you can imagine, there is a class for everybody who wants to get into this, and you can start small and grow into the role of professional tractor puller. As in every sport, as you get closer to the top, it gets harder and more expensive. This is not a cheap hobby, but those who are into it are very proud of their achievement and say it is gratifying.
International & unconventional all-family fun
This sport has been adopted by many countries including Germany, Denmark, the Netherlands, and even Brazil.
If you can't afford a full-scale tractor, but you think it is cool, there is still hope for you. You can join the remote-control truck and tractor pulling competitions using scale models, or you can put your kids to enter these competitions until they are old enough to drive the real thing. Another way to get your kid into tractor pulling is "pedal tractor pull".
So why do you enjoy tractor pulling?