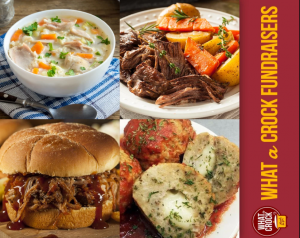 THANK YOU for taking the time to read about our ongoing fundraiser this year! 
As you know, the ability to provide many of our services and programs each year depends on support from our community.  Now more than ever, we recognize that quality, safety, and efficiency are key to fundraising effectively, and that is why we have partnered with What a Crock Fundraising – to offer a great food fundraiser throughout the year!  It's so simple!
Here are the highlights:
ORDER: Order online using our link: https://whatacrockfundraisers.com/pages/annearundel
FREQUENCY: Order all year long! Meals ship within two business days and arrive DIRECT to your door!
PROFIT: Up to 20% of your purchase will go back to our organization, every time you order.
DINNER IS SERVED: No Prep! No Hassle! No Mess! Just follow the cooking instructions provided in each meal and you'll have chef-prepared meals for dinner any day of the week! Jambalaya, Pulled Pork, Uptown Beef Stew, Mac and Cheese, SO many choices to fit all types of appetites!
Starting TODAY, you can shop online using our link: https://whatacrockfundraisers.com/pages/annearundel.
Buy any combination of appetizers, soups, dinners, and desserts and help us earn money towards our programs!
Our goal is to preserve a place where families can "Come to the Fair" to enjoy and interact in family friendly events while continuing the education of agriculture and community service.
All proceeds go to improvements and maintenance of the fairgrounds.
Please visit and like our Facebook and Instagram page for events and fundraiser updates.
Thank you for supporting Anne Arundel County Fair!