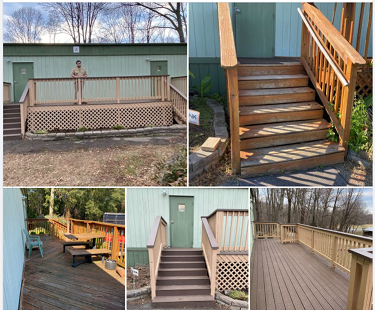 17 Jan

New Deck for the AACo Fair Office!

From Justin Tice

I am happy to say WE completed the work on my Boy Scout of America Eagle Scout Project Today. We redid the Office porch at the

Anne Arundel County Fair Inc.

I say WE because it took many volunteers to help me for which I am very grateful. I would not have been able to complete this project with out them. It took 262 Volunteer Hours to complete this project.

It also took $3,311.21 worth of materials.

If you would like to make a donation to help me cover my costs on this project I would appreciate it very much. Make checks payable to Anne Arundel County Fair and mail them to me PO Box 163, Harwood, MD 20776. Above are the before and after pictures.